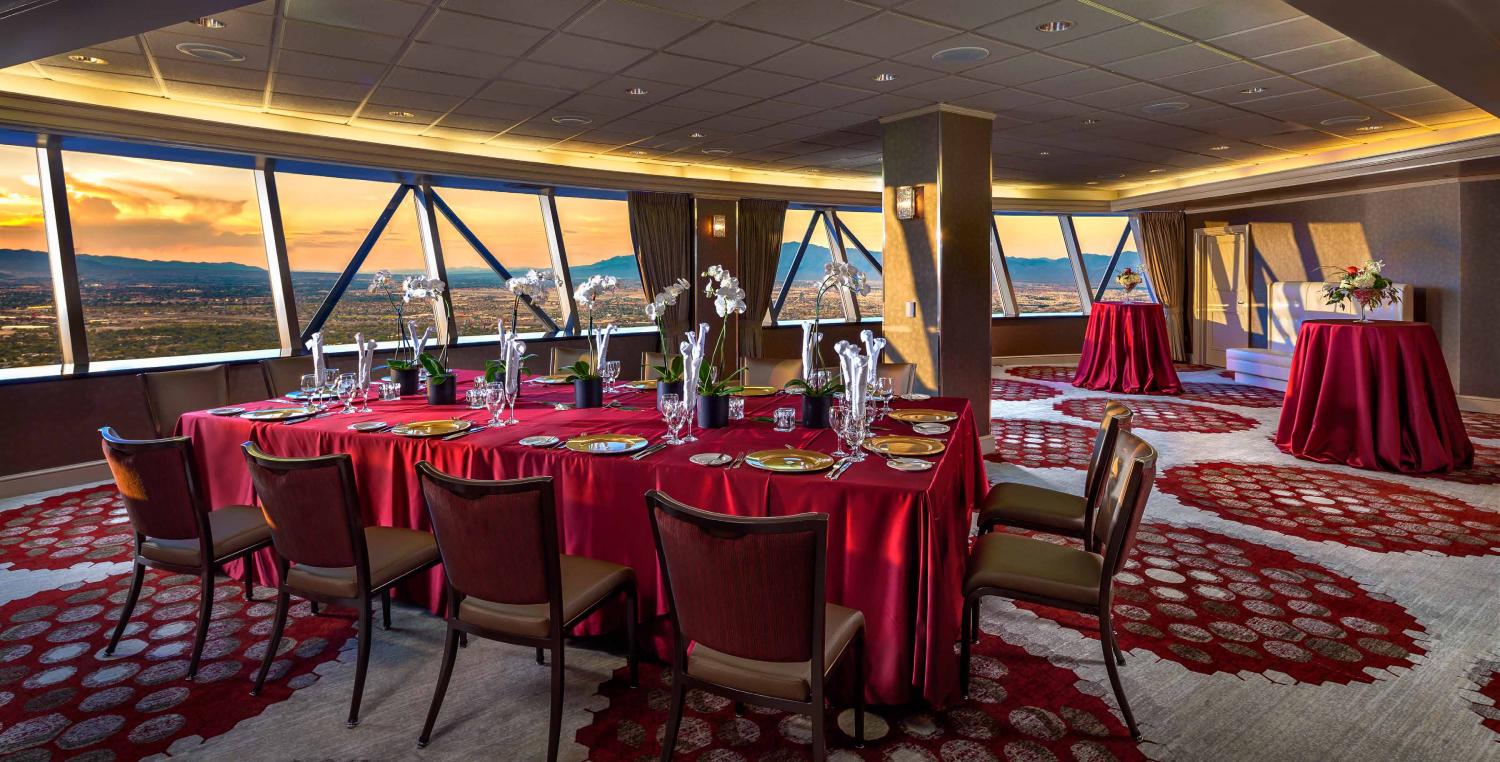 Private Dining
We take Private Dining To A New Level - 800 feet above Las Vegas!
The STRAT Hotel, Casino & Tower is located on the North end of the historic Las Vegas Strip. Situated close to the monorail and the Convention Center, our property is easily accessible from anywhere in the city. Our iconic Tower can be seen in the skyline throughout the Las Vegas Valley. With the Strip being only 4.2 miles long, we are in perfect proximity to all properties.
Treat your group to visionary cuisine, great service and a stunning view of Las Vegas from one of our Vegas Private Dining Rooms, located on the 103rd, 104th or 108th floor of the Tower. Previous events that we hosted were: Citibank, IBM, T-Mobile, VADA, Siemens, Cintas, Barclays, NHRA and NASCAR.

Guests enter the Tower through the VIP entrance, and are directed to the private dining room, where a personal staff awaits their arrival. All menus are prepared by the executive chef of Top of the World, offering a variety of on the spot selections to your guests. They also can be customized to meet your individual needs, including personalized headings and corporate logos. With an extensive wine list and vegetarian friendly dishes, private dining is perfect for entertaining corporate clients, social or incentive group, and wedding reception guests. We host dinners for up to 550 guests and large receptions for up to 2,200 guests. Theater and Theater Foyer events can seat up to 550 guests for presentations and receptions.
Other incentives include:
Stunning views of Las Vegas from each private venue
Complimentary passes for unlimited Tower Thrill Rides (excluding SkyJump)
Complimentary access to the Observation Deck
Presentations and speeches can be accommodated.
Are you entertaining clients during a convention? Please contact us for special incentives!
For additional information or availability, call 800.789.9436 or email [email protected]