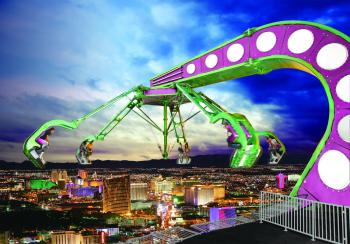 Insanity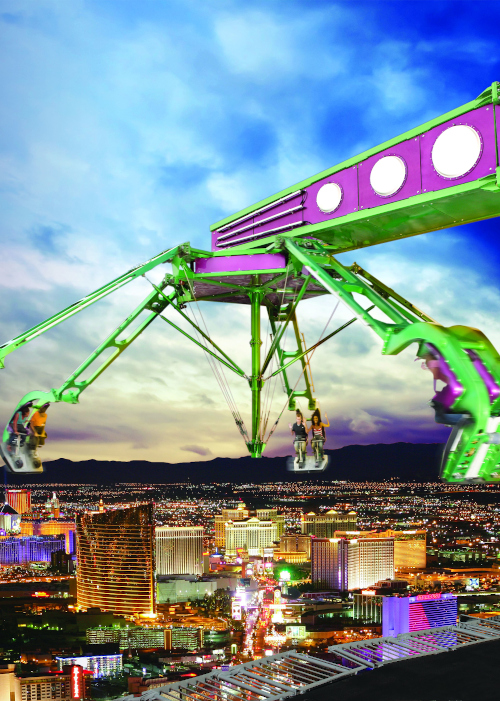 The best Las Vegas thrill ride has 3 Gs of pure Insanity.
Insanity the Ride is a truly mind-bending experience! A massive mechanical arm extending out 64 feet over the edge of the SkyPod at a height of over 866 feet, this Vegas ride will spin you and several other passengers in the open air at speeds of up to three Gs. You'll be propelled up to an angle of 70 degrees, which will tilt your body into one position — straight down! If you're brave enough to keep your eyes open, you'll be rewarded with a breathtaking view of historic downtown Las Vegas. Experience Insanity and walk away to tell the tale!
Hours
Weather Permitting
Rides
Daily I 2pm - 10pm
Special Holiday Weekend Hours I 10am-12am
Dec 23-25, 2022 I Dec 30-Jan 1, 2023
SkyJump
Monday-Wednesday | 2pm-10pm
Thursday l 12pm-10pm
Friday-Sunday I 12pm-12am
Pricing Starting At
One Thrill Ride + SkyPod Admission $29.00
Unlimited Ride Pass + SkyPod Admission $43.95
Tickets & Information 702.380.7777
Military and NV Locals discounts are available at the Box Office. All prices are subject to change without notice. Anyone 15 years or younger must be accompanied by a parent or legal guardian.
Ride Requirements
Must be at least 52" tall to ride Insanity. This is a high-speed ride experience with a high centrifugal force at an elevated height. This ride is not recommended for guests with physical, mental and/or medical limitations. More info on the recommendations and requirements for this ride.